Harrogate Autumn Flower Show (the home of the giant vegetable championships)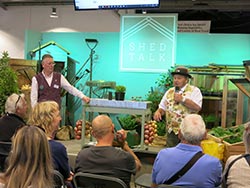 I was very limited in time for preparing for the show what with being at the Rotherham Show the previous weekend and preparing for our Heritage Open weekend the weekend after at Victory Garden Allotments as it is our centenary year this year.
What made matters even worse I had double booked on the Friday to do a promotion stand and workshops for the Yorkshire Local Councils Association, AGM in York.
The Show Director, Nick Smith had also asked if I could do three talks at the show, one of the regular talks I do with Martin Walker but also two one hour illustrated talks on my own "Allotment Gardening on a Shoestring". So with the aid of my trusty Mannequin 'George' I created a simple display to accompany the display table. Unfortunately even that was made more complicated as I had to do some rather major alterations to his bent arm so he could hold the wheelbarrow.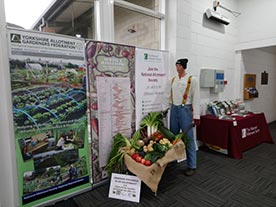 All went well in York as I was accompanied by Liz Bunting, NAS Legal Advisor and Operations Manager I think our double act was well received.
This left me to work all Friday night until well after midnight to complete my power point presentation.
Up bright and early the following day. The talk's went very well and were much appreciated according to feedback. More individual members were recruited so all in all it was a successful weekend.
Thank you very much to Kay Heywood and Barry Bothamly for volunteering to man the stand whilst I was indisposed on the stage.
Phil GOMERSALL
Rotherham Show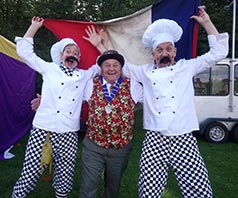 What a lovely show which had its roots as a horticultural show. Now it is much wider than that with all sorts of attractions. There still remains a large marque however as a dedicated horticultural tent.
The Rotherham Alliance once again invited me to put up an NAS stand next to theirs which I duly agreed to. Mike Farrell from the Alliance once again got me and my wife an invitation to join the Civic party as a distinguished guest.
I put up the stand on the Friday. So on the Saturday I got all dolled up in my best jacket and my Presidential bling, so as not to feel out of place at the Civic party. My and what a civic party it was, I felt extremely honoured to be there, Lord Mayor and Lady Mayor of Sheffield, Mayor and Mayoress of Rotherham, Master Cutler (head of the company of Cutlers, acting as an ambassador of industry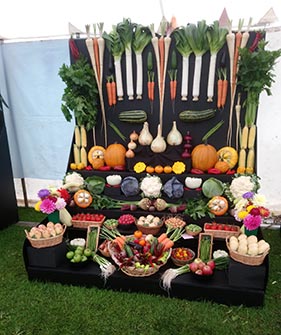 in Sheffield) and his wife from Sheffield and many more guests all with chains of office. We had an escorted tour around this wonderful show which covers a whole park and is entirely free!! entry to the public.
Walking around the children's area I was really taken by what was called 'The Allotment' and was aimed at the younger children. It comprised of all types of fruit and veg, all with wobbly eyes added and when of appropriate size and shape dressed in nappies and with dummies and positioned in vintage prams, high chairs, cots and laid on cushions. There were feeding bottles so the children could pretend and cuddle and feed them. I was very taken with this idea as being an extremely novel way of introducing very young children to fruit and vegetables and bringing familiarisation.
The rest of the time on Saturday and Sunday was spent promoting our great organisation and answering queries.
This was yet another wonderful event, thank you Rotherham Alliance and Rotherham Council for a great time and a great show.
Phil GOMERSALL
Small Gardens – great diversity. Image video of the BDG.
Allotments: an area of a manifold diversity and a greater environmental justice in our more and more dense cities.
Just watch the film.
The garden as diversity engine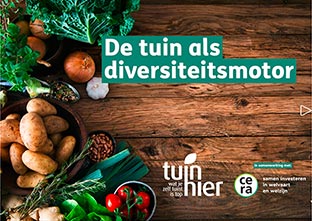 Tuinhier (the Belgian allotment federation) launched a digital brochure in September 2019.
They promote the garden, school gardens and allotment gardens as diversity engines.
The brochure contains twenty interviews from existing projects in Belgium and abroad. These allotment gardeners work with different target groups. They give specific tips and advice.
The brochure offers factsheets about communication, accessibility and good body postures in the garden.
http://www.tuinhier.be/nl/nieuws/13161/de-tuin-als-diversiteitsmotor
http://www.volkstuin.be/Repository/Documenten/TUINHIER_Tuinhier_BrochureTuinprojecten.pdf

New logo and internet presence
After more than twenty years, the "Zentralverband der Kleingärtner und Siedler (Central Federation of Allotment Gardeners and Settlers) has decided to replace the previous logo with a new one, in a contemporary design. A closer look at the new logo reveals a lot of symbolic significance.

At the top are the colours "red-white-red" as a symbol that we are a federation that operates and is committed throughout Austria. The green in the heart is of course, an expression of our solidarity and responsibility for nature and its protection. The light blue stands for the air, whose purity needs our protection just as much as the water, which is represented by the dark blue. Finally, the different yellow tones remain, which symbolize the sun on the one hand, which gives us strength to grow and thrive, as well as the variety of flowers in our gardens, but of course also for the bees, which represent all insects and have an invaluable asset for our gardens.
The main reason for the establishment of a new logo was the complete redesign of our Federation's homepage, planned for September, as well as the new design of our Federation's magazine "Kleingärtner".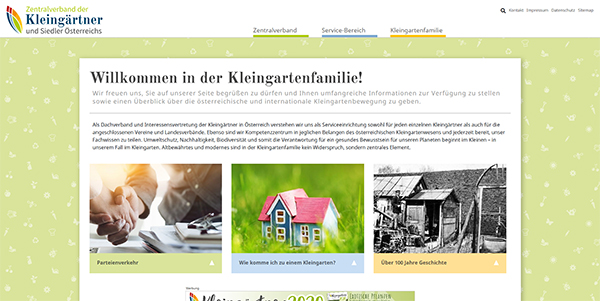 As a service institution for our affiliated associations and societies and their members, it is very important to us to reflect this service character on our homepage. The new homepage will make it even easier for our members to find and use the various services offered by the Central Federation.
In addition to the new, modern structure of the site, there will also be an allotment garden blog in the future, which will dedicate itself to the topic "allotment garden family" in various forms and will support the dissemination of our main topics on social media.
We look forward to welcoming you as a visitor on our new homepage.