Focus on allotments
Smaller but still productive Allotment Stand at Harrogate Spring Flower Show 20th – 23rd April 2017 (Great-Britain)
Following a bout of illness after all the very strenuous Allotment Show Garden successes last year I have decided to restrict myself to leaflet stands and just helping with the creation of Allotment Show Gardens when necessary.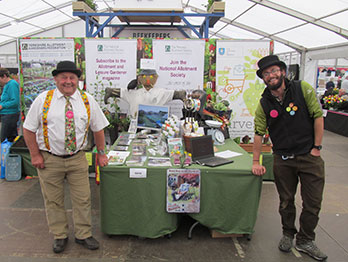 So this year I simply produced a decorated leaflet stand for the promotion of Allotments at the Harrogate Spring Flower Show under the banner of Yorkshire Allotment Gardeners Federation and the National Allotment Society. There was also planting of seeds provided for the children. I also invited MyHarvest project Based at Sheffield University to join us, a project which could prove very beneficial to our allotment movement. They sent a team of volunteers to man their part of the stand which complimented the volunteers from YAGF. Their administrator Roscoe Blevins was a natural showman and fit right in to my rather extravert approach to the promotion of allotments. The combined stand worked extremely well as we could refer punters to both sides of the stand. The project collected details from many prospective participants.
And that was not all...
Busy time at Harrogate Spring Flower Show
In addition to erecting the Allotment promotion stand and manning it for the duration of the show, I was once again asked to do talks with Martin Walker, the creator of many of the Leeds City Council show gardens at Chelsea. The talks took place on the Kitchen Garden Magazine stage every morning. Martin and I are like chalk and cheese. He can refer to his professional horticultural expertise and I refer to very down to earth gardening on a shoestring with lots of props on display such as concrete reinforcing mesh for plant supports, scaffold debris netting for plant protection, plastic water pipe to make cloches and much more and all put together with quite a bit of Yorkshire humour and not forgetting the added comments about the benefits of allotment gardening. It seems to work very well with audiences standing in the aisles; so we must be doing something right.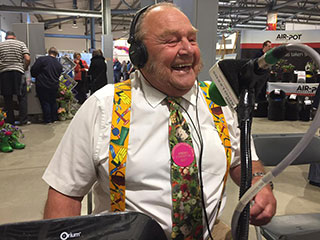 On the Sunday morning I was called for a radio interview on the Radio Leeds, Tim & Graham Gardening Show. I have had some quite humorous interviews with these two about allotments before, in their studio, but this was being held in the corner of one of the flower halls. It was primarily about the promotion of allotments at the show and the MyHarvest involvement in the show and again it developed into a quite jovial chat with some light hearted banter. It was all good fun, but getting the message across about the promotion, protection and preservation of allotments and all the benefits they can offer.
Plans for the future
I am hoping to do another allotment promotional stand with MyHarvest at the Great Yorkshire Show, Tuesday 11th – Thursday 13th July again under the banner of the YAGF and the NAS.
Phil Gomersall
Leeds Allotment Training Event on February 2nd 2017 a huge success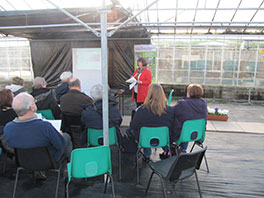 What a line up, what a day. Leeds & District Allotment Gardeners Federation (LDAGF) in conjunction with Leeds City Council Nursery had pulled out all the stops at this event. The primary aim was to encourage more self-management but in addition to offer information and help for the managers of existing associations, with added interest through talks on growing and composting. There were also stands from other growing and funding organisations and lots of information from our own National Allotment Society. The event was open to all allotments in Leeds and Districts.
The day started with an introduction by Paul Lattimer, LDAGF, chairman.
Then Paul Ackroyd the nursery manager gave an interesting talk explaining that the huge nursery complex was moving lock, stock and barrel to a new site to make way for a new road and housing development. He went on to explain that the new greenhouses were that hi-tec they could be operated remotely. This was followed by the first two workshop sessions which were run by some very prominent people. Delegates were to choose three of the four workshops being offered.
Workshops
1. Role and responsibilities of Trustee's by our own Liz Bunting, National Allotment Society.
2. Getting the best from your allotment by David Allison, National Vegetable Society.
3. The need for Insurance by Paul Lattimer, Leeds & District Allotment Gardeners Federation.
4. Composting by John Cossham, Master Composter.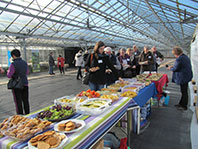 A superb lunch was organised by Judy Turley and Gill Walsh, LDAGF, Secretary and Treasurer respectively with drinks served by Lynn Rogers, LCC Allotment Officer.
A further workshop session was held after lunch.
There followed a short talk by Dr Jill Edmondson, Sheffield University explaining the details of an interesting and exciting research project MyHarvest. (There will be more about this project later).
There was even more to follow in this action packed day, Graham Porter, Chartered Institute of Horticulture, broadcaster and author gave an interesting talk on 'The past, present and future of food production'.
The afternoon finally finished with a summary by Cllr Stewart Golton, LDAGF, vice-chairman who thanked every-one for coming and making it such a great success.
Wow! What a day! What an event!
Comments from delegates 'can't wait for the next one'.
Great Yorkshire Show 2016
Wow! 'Best Show Garden' achieved by Leeds & District Allotment Gardeners Federation .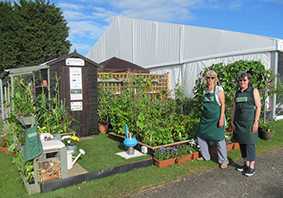 Earlier this year the LDAGF were judged along with other Horticultural Societies and Associations and were awarded a 'Premier Gold' certificate for the allotment garden they created at the 'Harrogate Spring Flower Show', quite an achievement in itself. The team however went on to apply to the Great Yorkshire Show to enter an allotment garden as a 'Show Garden'.
This was a completely new venture as the Federation have never entered in this category before or created an allotment garden outdoors with all the problems of weather, wildlife and bugs.
Having submitted a last minute brief and sketch the fun began. The changes which would have to be made to create a show garden were discussed and designed to incorporate many useful innovations; innovations which can easily and very cheaply be created and also possibly be adapted, to aid the growing of fruit and vegetables and but still maintain features suitable to comply with the criteria for a show garden.
We have been very lucky to have the use of part of a large unheated greenhouse at Leeds City Council, Red Hall Nurseries but even this became too hot for the plants in June and also a pesky young magpie kept nipping off our new shoots. So, an additional large netted growing area had to be created on an extremely wet day; we got soaked. Many of the plants from the earlier show got beyond their best and many more had to be grow (all our plants are home grown) in fact most of the stands fabric is reused materials.
The team started creating the new features of the allotment show garden which was mostly ready a week before the show. Just as well because we started building the allotment garden on a Wednesday almost a week before the show.
A large van was hired to ship the plants to the showground on the Friday as most volunteers were only available to help at the weekend.
From this point on, the stand had to be totally netted every night to keep the rabbits out. By Monday the allotment garden was mostly complete, there was just the information aspect of the garden in two integral gazebos' (which completed a circular tour around the garden) and a few fiddley bits to finish.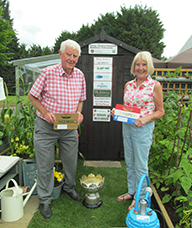 Tuesday morning arrived and show gardens had to be ready for judging for 7am and for a 7.30am opening to the public, which meant a 5.30am start each day of the show, yawn!!!.
Bacon butties all round whilst waiting for the judges, and finally they arrived. You can't stand close by when the garden is being judged, you strain your eyes and ears trying to see the judges expressions and a snippet of the odd word. No such luck and off they went.
A little later a show official arrived and presented us with a 'Gold Medal' certificate, what a feeling of pride and elation overcomes you but as he left he said quietly I want someone at the show stage at 10.45 sharp for another surprise. What would it be? Three of the team went to see.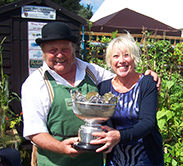 It turned out to be a wonderful surprise, a huge silver rose bowl and a 'Champions' certificate for the best 'Show Garden' what an achievement for a voluntary organisation at the huge and prestigious 'Great Yorkshire Show' and presented by none other than Carol Klein. It almost brought tears to my eyes and I nearly threw my bowler in the air.
A wonderful show followed with lots and lots of compliments and many visitors left the garden to implement the innovations seen on our allotment garden.
A proud team and a very proud Publicity Officer, Phil Gomersall.