Participation of the allotment gardeners in the FEW-Meter Project
What is it about? Within the framework of the research project "FEW-Meter" (Food, Energy, Water) studies are being carried out in Germany as well as in France, Great-Britain, Poland and the USA to investigate the efficiency of "Urban agriculture". Urban farming is a generic term for food production in urban areas. Worldwide the small-scale cultivation of fruit and vegetables in cities is increasing.
Urban agriculture can take many different forms:
Community gardens are included in New York City and London, but also roof farms, aquaculture, kitchen gardens and therapy gardens are conquering the cities. Allotment gardens have been an established feature in many European cities for more than a century. This development is strongly pronounced in Germany and Poland.
Allotment gardens have always been places of self-sufficiency, which have been experiencing a renaissance since the turn of the century. Allotment gardens are part of the social and ecological network of a city they are in many ways part of the good climate in the urban residential areas and are places of nature experience. Thus it cannot be denied that allotment gardens are also part of urban agriculture.
How efficient and sustainable is urban farming?
What quantities are harvested all year round?
How much water and energy are used?
Questions over questions to which the researchers want to find reliable answers.
However, biodiversity, the gardening experience, the use of the harvested products, fertilisation and plant protection are also topics that are being investigated.
In cooperation with the researchers from ILS (Institute for regional and urban development research) and the regional allotment gardeners' federation allotment gardeners from NRW (North Rhine-Westphalia) will record their harvested products in 2019 and 2020 and document their horticultural and ecological activities. They will be supported and advised on site by our garden expert and lecturer at the Stephan Grote State school in Münster.
The researchers Runrid Fox-Kämper and Kathrin Specht from the ILS informed about the challenging and exciting project during the opening workshop on November 10th 2018 at the State school.
It is great that12 allotment gardeners from Bochum, Dortmund, Münster, Lünen and Oelde take part in this project.
pdf file
Science prize 2019 of the German allotment federation
At the occasion of the central federation's day of the German allotment federation (BDG) in Dresden, Dirk Sielmann was not only elected as the new president, but the BDG's science prize was awarded too. With the aim of sensitizing young scientists to the topic of allotment gardens, four outstanding scientific studies were presented and awarded prizes. "All four studies deal with their respective topics in a methodically challenging way and on a high technical – scientific level and remain nevertheless in tune with actual practice and predominantly present well usable results" underlines jury chairman Helmut Kern.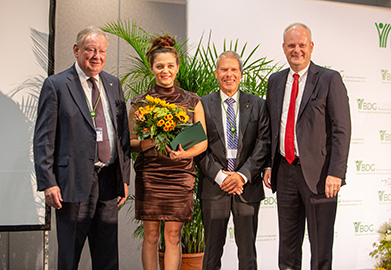 Agnieszka Schlegelmilch personally accepted the first prize for her master thesis submitted to the TU Berlin entitled "The cooling potential of allotment gardens during summer – case study of the "allotment garden colony Johannisberg" in Berlin. Schlegelmilch proved by means of a methodologically much differentiated field study that allotment gardens, like other green spaces in the city, have a significant potential for regulating the urban climate and can counteract the well-known phenomenon of urban heat islands in their immediate surroundings.
2nd prize: The study "Biodiversität der Wiener Kleingärten" (biodiversity of the Viennese allotment gardens) empirically proves that the abundance of species of flora in allotment gardens also has a positive influence on the abundance of species of fauna. The study was carried out by a team from AGES (Austrian agency for health and food security) under the direction of Dipl.-Ing. Anna Moyses
3rd prize: The work: "Kleingartenentwicklungskonzeption der Stadt Schwarzenberg/Erz" (Allotment garden development concept of the city Schwarzenberg/Erz), prepared by a team of students of the University of Applied Sciences Erfurt, shows the importance of an analyses of the needs in regions with a declining population development. Allotment garden sites with high occupancy rates must be maintained. If demand is structurally too low, however, this also means that allotment sites must be closed.
4th prize: Valerie Milicevic, master thesis "Kleingartenverlagerung im Kontext der Entwicklung von Potenzialflächen im Siedlungszusammenhang" (Allotment garden relocation in the context of the development of potential areas in the settlement context) submitted at the TU Darmstadt, deals with a currently explosive topic in growing cities.
pdf file
Small Gardens – great diversity. Image video of the BDG.
Allotments: an area of a manifold diversity and a greater environmental justice in our more and more dense cities.
Just watch the film.