Publications
Magazine:
"Kleingärtner" (the Austrian Leisure Gardener) specialised review for horticulture, that is issued 11 times a year.
Approach:
Little doctrine of fertilizer & (the) protection of flora for the hobby gardener.
Festschrift:
From a vision to a little paradis - a chronicle - 85 years "Zentralverband der Kleingärtner und Siedler Österreichs."
Movie: 100 years of existence of the Austrian Allotment Federation
Book:
"Gemüsekrankheiten" - "Vegetable Diseases" The ultimate reference book of Gerhard Bedlan:
The textbook for market gardeners, purchase vegetable farmers, consultancy services and as a textbook for training 500 vegetable diseases; which pathogen which causes the disease; Harming and disease; 666 harmful images; 372 pages (GERMAN)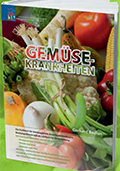 VADEMECUM: Bees on allotment garden sites