Climate-friendly gardens are in vogue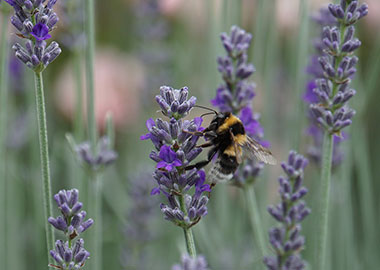 It is becoming more and more apparent that not only sustainability and biodiversity are in demand in our gardens, but also that the advancing climate change must be taken into account, especially when it comes to planting. There is still enough water in Austria, but we are already seeing problems in agriculture.
The following tips are general recommendations that will become particularly relevant in relation to the approaching climate change. You should try to see the connections in the natural cycle when working in the garden, because then you will be flexible enough to take on new challenges.
In order for your plants to grow healthily, species-appropriate light requirements and soil conditions are basic prerequisites to be prepared for climatic stress. This reads well, but especially in the beginning extreme situations you should pay attention to the fact that it can also become more "Mediterranean" in the choice of plants, but above all that you pay attention to what still looks healthy in the gardens and in the nature of your surroundings and get one or the other plant into the garden.
Here are some more tips for your garden:
• Extremely dry summers cause stress in many plants, often resulting in stalled growth. Symptoms can be: Flower buds do not blossom, fruits are dropped before ripening, premature death of perennials. Plants can cope better with drought stress if they are watered sufficiently at longer intervals. The formation of deep roots is promoted by less frequent watering. In practice, extensive watering at longer intervals is better than distributing a little water in the garden every day.

• During wind and heavy rain, soil that is not overgrown erodes and silts up. To protect it, either vegetation or another protective layer must be applied. The best protection is provided by a plant cover (ground-covering plants, green manure). Where vegetation is temporarily not possible (e.g. vegetable garden, summer flower bed), the soil can be covered with mulch (e.g. leaves, grass cuttings, wood chippings, bark material).

• Planting deciduous trees in our gardens is a big trend. Trees provide shade and evaporative cooling in summer, and in winter they let light into the house. They bind CO², slow down the wind, produce oxygen and act as an effective fine dust filter. Deciduous trees are irreplaceable for a pleasant living space in the future.

• How we deal with our water will also be more important in the future. For this reason, there has been a recommendation for some time to collect rainwater from roofs and use it for watering the garden. The water can also be used for a wetland biotope or you can simply let it seep into the garden where you want it. Sealing of surfaces, such as paths, eaves or terraces, should be largely avoided. In principle, watering should be geared to the needs of the plants. Plants have different needs for irrigation water, so it is better to supply the garden areas individually than to wet everything evenly.

• And finally, it is also about "weed control", which should be carried out extremely selectively. Nowadays, wild plants can be tolerated and included in the design of the garden, a new garden wave is emerging. An area overgrown with wild herbs is in any case preferable to one without - it is not only valuable for the soil, but also for the insect world.
You may have noticed it, there is a trend back to the natural garden, to a garden with shrubs, with beds full of flowers and vegetables, where at least one tree provides shade and not just a measly awning, a garden full of plants that not only survive a longer time without intensive care, but also look good.
Fritz Hauk, Vice-President of the Central Federation of Austrian Allotment Gardeners
Vienna Allotment Garden Fair 2023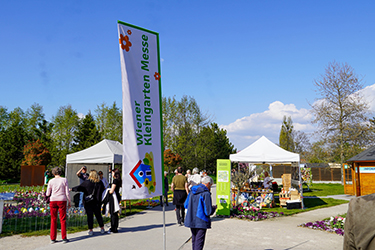 For the 19th time the Blumengärten Hirschstetten invited visitors to the "Vienna Allotment Garden Fair" last weekend. Numerous allotment gardeners took advantage of the summer weather to get information about building, designing and feeling good in house and garden.
On Friday shortly after one o'clock, the organiser Klaus Ranger asked for the opening with the guests of honour. The host of the "Blumengärten Hirschstetten" (flower gardens), the director of the city garden Ing. Rainer Weisgram, as well as the local councillor Mag. Gerhard Spitzer and the head of the district Donaustadt Ernst Nevrivy welcomed the guests and wished the exhibitors much success.
The allotment garden family was represented by President Ing. Willhelm Wohatschek. In his welcoming speech he focused on the necessity to enable and promote alternative forms of energy also in the allotment garden in order to push the independence from gas.
Mayor Dr. Michael Ludwig welcomed the guests and thanked the organisers for the opportunity to host a fair in this form. By way of introduction he underlined the great importance of allotment gardens for the urban climate. He expressed his wish that the allotment gardeners would set an example for the preservation of biodiversity in the city. The mayor, himself an allotment gardener, then visited the exhibitors and showed great interest.
The almost 80 specialist exhibitors and about 20 stands with decorations and accessories covered a wide range of topics related to home and garden. Particularly in demand were the latest trends and innovations in energy and heating, as well as biological products in the field of plant protection and soil improvement.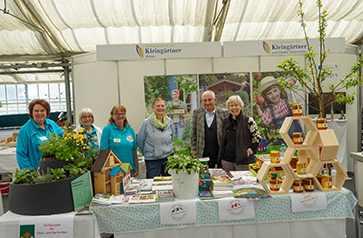 The many advice stands were very popular. These included the stand of the Landesverband Wien (Vienna regional federation) and Zentralverband der Kleingärtner (central federation of allotment gardeners).
Our officials were happy to help with questions about allotment gardens. On our kiosk PC we were this time also able to give direct assistance with our services.
The specialist adviser  eagerly answered questions about plant health and gave tips for more biodiversity in the garden.
Of course, the ladies of the Frauenfachgruppe Floridsdorf (women's expert group) were not to be missed this year. Their homemade delicacies from their own garden were very happily tasted and bought for a good cause. 
At over 20 degrees, the large outdoor area in front of the two glass houses was a special attraction. From a large selection of plants to garden furniture and pools, many things could be inspected and also purchased immediately.
Also in the outdoor area, 23 stations of the "Genussmeile" (Pleasure Mile) offered their products. Thus fortified, many took the opportunity to stroll through the lovingly designed theme gardens of the Hirschstetten flower gardens.
We would also like to take this opportunity to thank the EvOTION organising team for the successful days at the fair. We are already looking forward to the 20th allotment garden fair next year.
Further information and pictures can be found at:
Homepage: https://www.kleingartenmesse.at/
Facebook: https://www.facebook.com/kleingartenmesse/
Three brochures for biodiversity
The Austrian federation of allotment gardeners and settlers was able to accompany the cross-border EU project SYM:BIO of Bioforschung Austria within the framework of the INTERREG V-A Austria-Czech Republic programme for more than two years.
At the successful end, in addition to many research results, there are also the following three brochures, which were kindly made available to us by Bioforschung Austria to share with our members.
Every allotment gardener can make a contribution to the worrying decline in biodiversity. The brochures made available here should serve as an incentive to turn one's own garden into a place of diversity.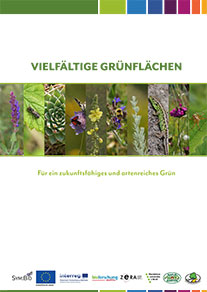 Diverse green spaces - for a sustainable and species-rich green space
In the SYM:BIO folder "Diverse green spaces - for a sustainable and species-rich green" you will find inspiration and ideas for nature-oriented design options for your own garden as well as for public green spaces.
Every one of us, whether a private individual, property manager, building cooperative or other property owner, can help to preserve and promote biodiversity.
Only together can something be changed and brought about, in line with the motto "I live here and want to leave a positive mark!". Here's to a sustainable and species-rich green for people and animals!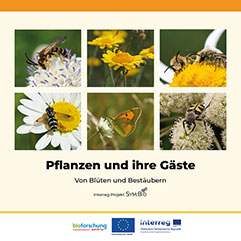 Plants and their guests - Of flowers and pollinators
More than two thirds of all plants depend on animal pollinators, with insects in particular "taking off" for the colourful blossoms and thus also ensuring our food supply. But birds also help plants to spread by eating fruits and seeds and carrying them out into the world.
In the SYM:BIO brochure "Plants and their guests - Of blossoms and pollinators" you can learn all kinds of interesting facts about the sophisticated interplay between plants and animals, and why native plants are so important for the preservation of biodiversity.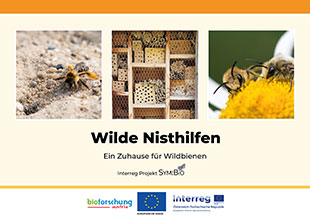 Wild nesting aids - a home for wild bees
Wild bees mainly colonise gardens that are rich in structure. Due to their diverse and species-specific requirements, they can be helped by various garden design elements such as natural meadows, year-round flowering perennial beds with native wild plants, deadwood elements, "wild corners", sandariums, etc.
In the SYM:BIO folder "Wild nesting aids - a home for wild bees" you will learn a lot of interesting facts about the lifestyles of the winged buzzers and how you can give them a home in your own garden.