Winter vegetables - fit through the cold season
Have you ever picked a ripe orange fresh from the tree in southern Europe and eaten it straight away? Then you will know what difference it makes in taste to consume regional fruit or vegetables. Too early harvesting and long transport routes contribute to the loss of aroma in food from distant countries.
This makes it all the more sensible to use domestic products. In winter the selection is smaller than in summer, but not less tasty. In the cold season, many vegetables are in high season.
Aroma meets Vitamins
It is no coincidence that winter vegetables are rich in vitamins. Red cabbage or white cabbage contains a lot of vitamin C. Beetroot is full of minerals such as potassium, magnesium, iron and calcium. The pumpkin is in no way inferior to this and trumps with the vitamins A, E and C up. And although you don't see it one wouldn't think that the leek contains a good portion of Beta Carotene.
Our body needs all these vitamins for a strong immune system. And that is what we need in order to remain through the winter healthy. Winter vegetables are not only an excellent source of vitamins, but also very aromatic.
Five winter vegetables under the magnifying glass
On the beetroot, people are of divided opinion. Some love them, others hate them. Many people only know it in the inlaid version. However, it tastes quite different as raw vegetable salad or cooked with a creamy cream sauce. With its high content of betaine, it supports our digestion and thus the smooth elimination of metabolic products. The red tuber is also visually appealing and brings a powerful dash of colour to the plate.
Let's get to Brussels sprouts, a real nutrient miracle. It is one of the vegetables with the most dietary fibres and is one of the best suppliers of potassium. Although the little florets are such power packs, not everyone likes them. The reason for this is their slightly bitter taste, which especially children are not so enthusiastic about. The Brussels sprouts, for example, often have a miserable existence as a side dish. However, it is quite different as a main course. In combination with curry, it immediately gets a completely different note and its bitter substances move discreetly into the background.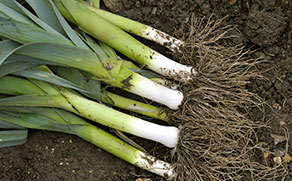 Let's have a look at another winter vegetable, the leek. Allicin is the name of the substance that distinguishes it. This sulphur compound is said to have an antibacterial effect. It is also the reason for the onion-typical smell of vegetables. Due to its intense taste, it can be used as a condiment to spice up a dish. It is also delicious as a cake, soup or risotto. It has a strange name, the butternut squash. Its shape, similar to that of a pear, is also somewhat unusual. So it's not surprising that it is also known as a pear squash. What characterizes it is its particularly soft flesh, which tastes discreetly of butter. However, it does not only impress with its taste, but also with its ingredients such as vitamin A, vitamin C, potassium, magnesium and calcium. On the plate it shines in many variations. Whether as soup, puree, roasted or raw, its nutty note matches many dishes.
The fifth vegetable in the bunch is cauliflower. It may not look like this, but it is quite a vitamin C bomb. 100 grams of cauliflower contain as much vitamin C as 100 grams of oranges. In its luggage it also carries vitamin K, which is important for blood clotting. Cauliflower is easily digestible and can be eaten raw. Especially, in the cold season there are of course recipes where it is prepared warm. Whether raw, cooked, baked or fried, the white florets are quite something.
With crisp winter vegetables, there is no winter blues in the kitchen. And if you don't like these five, I'm sure one of the many others will. Instead of cold weather there are now warm dishes – Enjoy your meal.
Recipes with winter vegetables
The quantities quoted refer to two persons.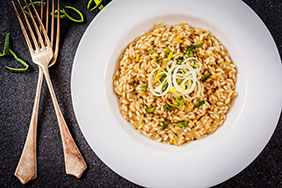 Leek risotto
250 g leek
1 onion
1 clove of garlic
150 g risotto rice
75 ml white wine
250 ml vegetable stock
100 g grated cheese (Parmesan, Gruyere, etc.)
1 tablespoon oil
Pepper and salt
Cut half of the onion into fine rings. Then fry them in some oil until they are brown and crispy and put them aside. Cut the cleaned leek into fine rings. Chop the remaining onion and garlic and briefly stew in hot oil. Add rice, briefly stew and then top up with wine and broth until it is just covered. Let it simmer in the covered pot over medium heat. Stir occasionally and top up with wine and broth. The risotto takes about 30 minutes to cook. Add the leek 10 minutes before the end and let it simmer. Finally add the cheese and season to taste with salt and pepper. Serve with the fried onion rings.
. . .
Make your own bird food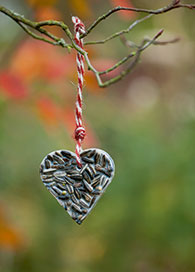 Food is one of the things I love. However, I am not only concerned about my own physical well-being, but also that of the birds. While they can feed themselves sufficiently in the summer, it looks less rosy in the cold season. Nature conservationists therefore recommend that food be made available to our feathered friends from November to the end of February. Now you might think that it's enough to throw them a little bread. This is not right, however, because bread is not a species-appropriate bird food.
With just a few ingredients you can make high-quality bird food yourself. Add a dash of creativity and the result becomes an eye-catcher in your garden.
The basic ingredients
During winter birds need fatty and nutrient-rich food. Some are soft eaters, others grain eaters. The designations already give a glimmer of what kind of food they both prefer. Soft eaters like crushed grains, dried berries and shelled seeds. Grain eaters, on the other hand, like seeds and grains with the shell. Nuts are also very popular with them. However, make sure that they are not bad or even moody, as this can be fatal for our feathered friends.
The production process is based on beef tallow, vegetable fat and/or edible oils. You can mix these ingredients as you like: oat flakes, sunflower seeds, chopped nuts, flax seeds, millet, wheat bran, dried berries or raisins. You can buy beef tallow from the butcher.
The following quantities are sufficient to fill a medium-sized flowerpot or the shell of half a coconut.
Preparation - quick and easy
Dissolve 100 grams of beef tallow - alternatively coconut fat - in a pot. It's supposed to melt, but not boil. Add a small dash of liquid vegetable oil. This helps to prevent the food from becoming too hard when cold. Now stir in about 150 grams of a home-made grain mixture. The sunflower seeds should make up two thirds of the total mixture, because their high oil content makes them very healthy for birds.
Allow the mixture to cool a little and then refill it. Decoratively painted flower pots, half a coconut shell, empty yoghurt pots, painted tins or cups are suitable as vessels. Insert small wooden sticks or branches into the warm mass. The birds can hold on to it later.
Birds feeder
Fir cones are a natural alternative to the vessels. Brush the slightly cooled mass into the cone and allow it to harden in a cool place. Now attach a packing cord to the cone and hang it outside.
Another variation is to first attach a string to the pine cone and then dip it in the melted oil. Make sure that it is evenly coated with grease. Then turn it in the grain mixture so that it is thickly covered and place it on baking paper to dry. Place the cones on a cold place so that they cure well before you hang them out.
With homemade bird food you not only do well, but you also bring vitality to your garden. The more versatile the food, the more bird species you attract. Have fun watching the colourful hustle and bustle!
Nima ASHOFF
An idea when you plan the coming cultivations
Easy DIY natural cosmetics from your garden
"What are a product's ingredients?" When I buy cosmetics, I rarely know any of the ingredients and its composition. However, it is very important to me to use as natural products as possible. Therefore I started to make cosmetics myself in order to know what ingredients are in them. It's not as complicated as it sounds. With a few steps, it's possible to create a number of products in the blink of an eye. You can even use ingredients from your own garden or vegetable patch for this, such as aromatic herbs or fruit. In addition to smelling very nice, certain herbs have therapeutic benefits. I would now like to walk you through some very easy recipes, which take very little effort but give a great result.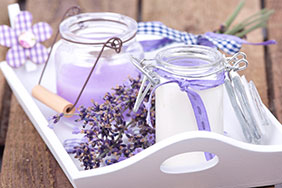 Relaxing face mask with lavender
1 tablespoon of lavender flowers
2 tablespoons of fromage blanc (regular [40% fat] for dry skin,
3 tablespoons low fat for oily skin)
1 teaspoon of wheat bran
1 teaspoon of honey
Put the flowers in a salad bowl and gently crush them with a spoon. Add the wheat bran and mix together well with the rest of the ingredients. Apply to your face and leave to work for around 15 minutes. Rinse with warm water.
Cleansing mask with herbs
2 tablespoons of low fat fromage blanc
1 teaspoon of almond or safflower oil
1 teaspoon of honey
1 tablespoon of finely chopped herbs (e.g. chamomile, rosemary, thyme, sage)
Mix all of the ingredients until it forms a creamy paste, then leave it to rest for an hour. You can then apply the mask to your face and leave it to work for 20 minutes. Rinse carefully with warm water.
Firming face mask with strawberries
6 strawberries
1 tablespoon of fromage blanc (use low fat for oily skin)
2 teaspoons of honey
1 tablespoon of fine porridge oats
First of all, reduce the strawberries to purée, then mix them with the other ingredients. Apply to your face, and leave it to work for 10 minutes. Then scrub your skin for exfoliation before rinsing with clean water.
Dandelion conditioner for shiny hair
2 handfuls of dandelion flowers
1 litre of water
Cook the leaves in half a litre of water and leave to soak for 10 minutes. Sieve the flowers and dilute the resulting plant extract with the rest of the water. Leave it to cool a bit before use.
Relaxing bath salts
2 large teabags for loose tea (available in supermarkets or wholesalers)
15g of lavender flowers
15g of lemon grass
10g of lemon balm
10g of rose petals
Fill the teabag with all of the herbs and seal it. If you want an even more aromatic version, you can add essential oils to the mix of herbs, e.g. two drops of lavender oil or lemon balm. Before use, leave the teabag to infuse in a salad bowl full of hot water for 10 minutes, then put it in the bathwater. Add a dash of olive, almond or sesame oil to the bath, and your moment of rest and relaxation is ready.
Reviving mint shampoo
One handful of fresh mint leaves
120ml of water
15g of olive oil soap (grated into shavings)
250ml of water
Soak the mint leaves in 120ml of water and leave for 3 hours. Then pass the leaves through a sieve. Heat 250ml of water, add the soap shavings and leave it on a low heat for 10 minutes. Take the dish off the heat and add the decoction of mint leaves and keep stirring. Put the shampoo in a clean bottle and all you have left to do is wash your hair. You can keep the shampoo for around a fortnight. Shake well before each use.
Text: Nima Ashoff
Photo: Fotolia Jenny Sturm