World Environment Day 2023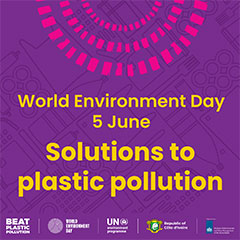 World Environment Day is celebrated annually on 5 June and encourages awareness and action for the protection of the environment. It was established in 1972 by the United Nations at the Stockholm Conference on the Human Environment, that had resulted from discussions on the integration of human interactions and the environment. One year later, in 1973 the first World Environment Day was held with the theme "Only One Earth".
World Environment Day 2023 is a reminder that people's actions on plastic pollution matters ("Beat Plastic Pollution").
Further information on this year's events and campaigns can be found at https://www.worldenvironmentday.global/

Solutions to Plastic Pollution #BeatPlasticPollution
Plastic avoidance can be achieved in almost all areas of life with simple solutions. We allotment gardeners can also make an important contribution.
If plastic remains in nature, it does not decompose there and persists - larger pieces of plastic become sources of danger for animals, microplastic finds its way into the material cycles of all ecosystems, where it is broken down even more and thus nanoplastics are created which can even penetrate the cells of living beings.
Allotment gardeners in particular should observe and implement the following points:
• plastic-free seed pots
• buy plastic-free plants (plant market, seed exchanges)
• buy high quality tools and use them for a long time
• use alternative materials (local wood, clay, stone, metal, bamboo, reed, jute, hemp, coconut fibre, wool, straw and compostable paper)
• keep organic waste plastic-free!
• reuse, exchange or return flower pots
• refresh potting soil with compost instead of buying new
• produce fertiliser from kitchen waste
• propagate seeds by yourself
• mulch instead of film against weeds
Let's do our bit for the environment and against plastic pollution!

References:
https://www.un.org/en/observances/environment-day
https://www.worldenvironmentday.global
https://www.umweltberatung.at/plastikfrei-gaertnern
International Day for Biological Diversity on 22nd May 2023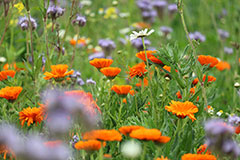 May is a busy month for allotment gardeners in Finland and throughout Europe. While gardeners, for example, in southern Finland are gradually starting new gardening season, the gardeners near polar circle are busy with planning and dreaming of the spring to come.
May 22nd is International Day for Biological Diversity. It is a special day, and, at the same time, it is like any other day in allotment gardens. On that day, like every day, allotment gardens provide insects and birds protection, nesting sites, and food, and thereby support biodiversity of nature in tightly built city environments. Allotment gardens are gardens with rich vegetation vital for the important pollinators, many of which are threatened species.
Biodiversity in nature is close to the heart both of the Federation of Finnish Allotment Gardens representing local allotment garden societies from Helsinki to Rovaniemi and all the other federations in Europe and Japan, united in the International Allotment Federation. All allotment federations are non-profit associations aiming to promote and develop allotment gardening. They drive sustainable development with the help of voluntary environmental leads in local allotment garden societies. Environmental leads inform and inspire fellow gardeners. They share best practices and ideate ways to maintain and increase biodiversity across allotment gardens throughout Europe, including tips for composting and recycling, avoiding chemicals, and removing introduced species in the garden.
Allotment gardeners celebrate the International Day for Biological Diversity working in their gardens, keeping the soil alive with everything they do. On May 22nd, they do what they know is best for the biodiversity in city environment, like they do every day.
May 22nd is, however, also an opportunity to invite allotment gardeners to increase even more, if necessary, their efforts and invite all other gardeners to join in, in the same efforts, to safe biodiversity for us and the coming generations!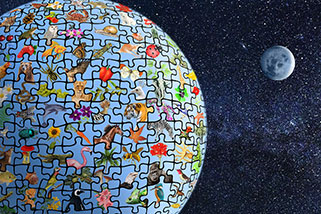 UN Environment Programm: Convention on Biological Diversity
https://www.cbd.int/article/idb2023
UNESCO: International Day for Biological Diversity
https://www.unesco.org/en/days/biological-diversity
International Day of Zero Waste on 30th March 2023
Call of the International Federation to its member federations and all allotment gardeners
International Day of Zero Waste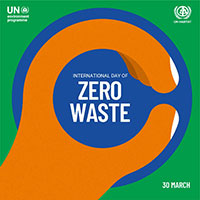 The International Day of Zero Waste will be celebrated for the first time on 30th March 2023. We would also like to take the opportunity to raise the awareness of allotment gardeners for this purpose.
On the homepage of UNEP, with which the International Federation is accredited, one can read about the motivation to create such a day:
"The International Day of Zero Waste aims to promote sustainable consumption and production patterns, support the societal shift towards circularity and raise awareness about how zero-waste initiatives contribute to the advancement of the 2030 Agenda for Sustainable Development.
The waste sector contributes significantly to the triple planetary crisis of climate change, biodiversity and nature loss, and pollution. Humanity generates an estimated 2.24 billion tons of municipal solid waste annually, of which only 55 per cent is managed in controlled facilities. Every year, around 931 million tons of food is lost or wasted and up to 14 million tons of plastic waste enters aquatic ecosystems.
Zero-waste initiatives can foster sound waste management and minimize and prevent waste, helping to address the triple planetary crisis, protect the environment, enhance food security and improve human health and well-being." (https://www.unep.org/events/un-day/international-day-zero-waste-2023)  
But what can we allotment gardeners contribute to this day?
As much as anyone else can, and a little more by being mindful of waste reduction and reuse in our gardens too.
Build a compost heap:
A compost heap can be used to dispose of almost all garden waste and in return the gardener receives the highest quality soil that can be reused in their own beds.  
Collect rainwater:
Rainwater is excellent for garden irrigation as it does not contain lime. If you collect the rainwater in barrels, you have to make sure that no animals can fall in and drown. A stretched net also prevents mosquitoes from settling in.
Mulching:
Covering the soil with a thin layer of organic material helps to protect the soil from drying out and also adds nutrients. Grass clippings, chopped wood or even straw can be used for mulching. When mulching with grass, it should already be somewhat dried, as fresh grass tends to rot.
Grow your own vegetables:
To avoid a lot of plastic waste at the beginning of the season, you can grow your own vegetable plants from seeds. This way, the joy of gardening starts earlier and you can save the plastic trays in which pre-pulled vegetables are often sold.
And what else:
Of course, we can also do a lot away from the garden.
• Repair instead of buying new - Often, defective appliances can still be repaired and thus remain in use.
• Plan purchases consciously - By planning your purchases carefully, you can avoid buying too much and then throwing it away.
• Reusable instead of disposable - This motto pays off both for beverages and for the transport of purchases.
• Drink tap water - In many countries, tap water is of excellent quality and with an automatic fizzy drink machine you can even make sparkling soda from it. This is cheap and saves a lot of plastic waste.

(Tips from: www.umweltberatung.at/abfallvermeidung)
So there is a lot we all can do and many of us have already integrated into everyday life as a matter of course.
Let's use the International Day of Zero Waste as an opportunity to remind ourselves of this, so that we can leave a world worth living in for our children and grandchildren.